Over the years, V-Trans India Ltd. has evolved trust, reliability, and respect by being one of the most consistent leaders in the transport, express, and logistics spaces. Our elders laid the foundation and put in a lot of hard work to create and establish our organization. And we, the 2nd generation, have taken it to its current status, i.e., a nationwide network, multiple products, and healthy revenue, through Unity and Trust. Our entire family has wholeheartedly supported us to take the brand to the highest level.
Our growth journey over the past two decades has been rock solid, with a CAGR of 20% known to be amongst the best in the industry. Though the past 3 – 4 years have posed a lot of challenges, we have once again regained momentum, and not only VT but all our other divisions VX, VL, and e-Comm have been growing, in fact at a faster pace. Our excellent fleet is not only efficient but is a pleasing sight on the roads. We are getting excellent media coverage in the press which is adding value to our VT brand.
1000

+

Branches

15000

+

Location

3300

+

Workforce

100000

+

Customer

50

+

Million Articles Managed & Delivered

6

Legacy of 6 Decade

Tech Driven Logistics Company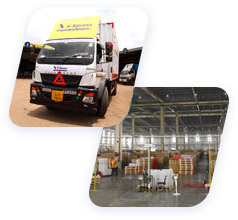 Flexible express logistics services.

Learn More

Experience power of end to end logistics services

Learn More
Efficient & Effective

Our updated technology, state of the art infrastructure, and trained staff ensures, the best customized cargo management and logistics solutions for all sizes and types of cargo at competitive costs with effective operations.

Expert

Through longstanding relationship with our clients, we have years of expertise in handling voluminous types of material acrros geographies and Industries. It is this expertise and netwrok power that sets V-Trans Apart for the rest.

Ethical

With technology and excellence in delivering the cargo, one thing that can never be compromised is being Ethical. V-Trans is known for its Ethical dealings with employees, vendors and other stakeholders. This trait is instilled by the founders and it runs in the very DNA of the company.
Have a Question?

Quick Contact