V-TRANS® Core Values
Our company values are core and integral part of each activity that we do. From the management to the colleague working on ground all have the values imbibed.
Be passionate. Love your work, do not compromise on quality, and aim for success.
Be reliable unconditionally. Respond to changes, and never break the trust.
Be a visionary. Always think innovatively, think differently, and think about future.
Be human. Show respect for the dignity of each individual.
Be ethical. Know the difference between right and wrong, and honor your social and behavioral morals.
V-TRANS® Quality Policy
We strongly believe in high quality and its impacton customer satisfaction.
Customer Delight: To understand customer needs, provide customised solutions and achieve customer satisfaction
Process improvements: A continuous learning process to improve existing processes that can increase productivity and efficiency across everything in the business.
Meet customer expectations: With the help of our trained staff and updated technology platforms we are able to provide our customers with solutions catering to their preferences and regular updates for status of cargo and delivery timelines.
Periodic reviews: We encourage monitoring and periodic review of our work to introduce new ideas and processes that can help increase productivity, reduce inefficiencies and costs for our clients.
Minimise waste: As an environment conscious company, we encourage all our internal stakeholders to practice minimum wastage. Employees respect resources and time to increase output across their work days. Partners innovate to provide better solutions. And, clients too assist us in reducing wastage through many communication and resource productivity initiatives.
Zero Defects: We aim to achieve zero defects in our cargo management and logistics solutions. This means ensuring better management of cargo at various stop locations, better equipment to handle the cargo, well trained staff to ensure zero flaws in the whole process. This increases the quality of our cargo management.
V-TRANS® Awards & Certification
V-Trans prides in being honored with multiple accolades for delivering excellence in all aspects of business, from being the Iconic brand to best in corporate governance, to the best integrated logistics solutions and for being the champion in surface transport. These awards are a testimony of our commitment and propel us to work harder to find innovative and effective solutions for our customers.
V-TRANS® National Presence
A widespread network across India in all key locations to cater to a variety of industries and companies of different sizes. We work with large companies as well as medium sized companies who can take advantage of our widespread network and cost efficiencies.
1000

+

Branches

15000

+

Locations

6

Legacy of 6 Decade

Tech Driven Logistics Company
Careers

V-TRANS Job Opportunities

Our teams have a healthy combination across different experience levels. We encourage learning, sharing and teaching across our diverse employee pool.

View All Job Openings

Service

Integrated FTL / PTL & ODC Service

Crafted and curated solutions from the wide range of logistics services that we provide, with a focus to customize and make it apt for our clients' needs. We strive to be the logistics edge for our clients, by diligently blending the technology, infrastructure, people-expertise and commitment.

View All Services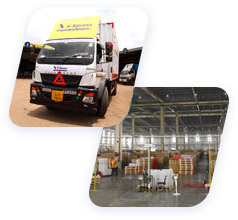 Flexible express logistics services.

Learn More

Experience power of end to end logistics services

Learn More
Efficient & Effective

Our updated technology, state-of-the-art infrastructure, and trained staff ensures, the best customized cargo management and logistics solutions for all sizes and types of cargo at competitive costs with effective operations.

Expert

Through longstanding relationship with our clients, we have years of expertise in handling voluminous types of material acrros geographies and Industries. It is this expertise and netwrok power that sets V-Trans Apart for the rest.

Ethical

With technology and excellence in delivering the cargo, one thing that can never be compromised is being Ethical. V-Trans is known for its Ethical dealings with employees, vendors and other stakeholders. This trait is instilled by the founders and it runs in the very DNA of the company.
Have a Question?

Quick Contact